The photographic archives of the Milton Historical Society are expanding on a daily basis, as the dedicated MHS volunteer Brenda Whitlock scans and posts the many images. Due to the large size of the Milton Images project, the images are stored on the main Halinet system and are available by way of a dedicated search engine.
Some examples of what you might find: (click on image for details)
| | |
| --- | --- |
|   | Joseph Martin was the son of Jasper Martin who is considered to be the founder of Milton. He was born in Northumberland, England. He married three times 1) Ellen Fleming, 2) Mary Teetzel (one daughter) and 3) Jane Maunder, (two sons and one daughter). |
|   | P. L. Robertson wearing top hat, smoking cigar, hand in pocket. Wicker chair in background. For further information regarding P. L. Robertson, please consult "P. L. Inventor of the Robertson Screw" by Ken Lamb, and "Milton Area Biographies V.2." |
Connect to Milton Images to search for photographs by keyword or subject. Milton Images is a partnership of the Milton Historical Society and the other Historical Societies and Libraries of Halton.  At this site you can search browse through photographs of Historic Milton, or search for images of particular interest.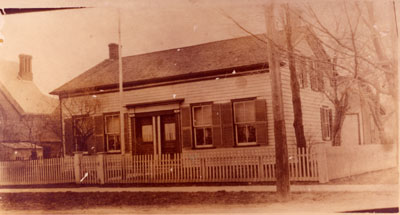 This was originally the home of George Brown, Milton's first mayor. It was built in 1842 on Main Street and about 1870 was moved to it's present site on James Street by James A. Waldie. The family operated the Waldie Blacksmith Shop on the lot, which was renovated by the Milton Historical Society.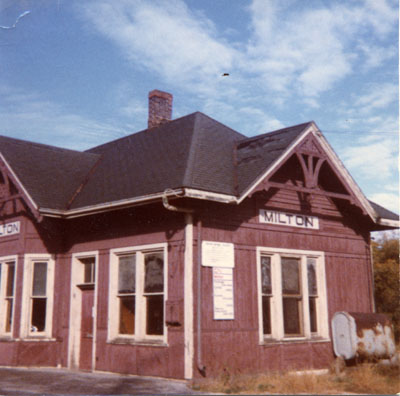 The Milton Station of the Canadian National Railway was originally situated on the east side of Bronte, south of the P.L. Robertston office. The building has been relocated to north Milton, just off the 401 (At Martin and Steeles) and is now the Tourist Information Building.
Other image collections in the series include:
Burlington Images
Oakville Images
The main site is located at Halton Images is created and maintained by the public libraries of Halton Region, the Burlington, Esquesing, Milton, Oakville and Trafalgar Township Historical Societies using software developed by HALINET and OurOntario.
Milton Town Council:
(Reeve Harrison; Merchant Smith; Dr. Freeman; Farmer Martin)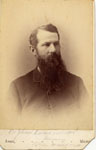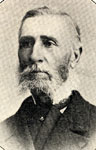 Milton Images is part of a network of a large network of enhanced services through Ontario's publicly funded libraries operating as "Knowledge Ontario", a collaboration of libraries, cultural heritage organizations and educational institutions. Its focus is on connecting Ontarians with digital content to support their information and learning needs.The images project is supported by the Government of Ontario through the Heritage and Libraries Branch of the Ministry of Culture and through the "Young Canada Works in Heritage Organizations" programme.
Milton's 125th Anniversary in 1982: