Kenneth James McKenzie #57
10th Canadian Field Hospital
The third Canadian contingent was the only one to take a field hospital with it to South Africa. The 10th Canadian Field Hospital provided outstanding medical services during its stint in South Africa.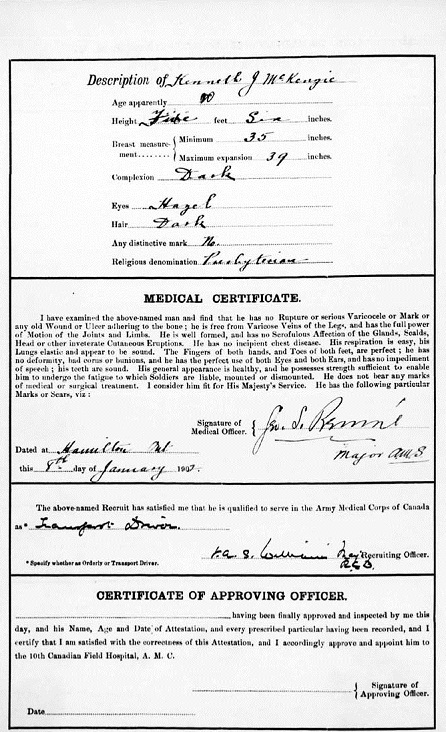 March 1902
Col. Evans commanding the Canadian Mounted Rifles, wrote from Cape Town on Feb. 14th just upon his arrival there with his regiment on the Victorian. He said there had been something of an epidemic of measles, 18 cases on the vessel and four cases of smallpox. The Victorian is believed to be in quarantine at Durban. Kenneth McKenzie, of Milton, a member of the Field Hospital Corps is on her.

July 1902
Kenneth McKenzie, of the Second Canadian Mounted Rifles, got home from South Africa on Friday. He was in the field hospital corps of his regiment and was at the battle of Hart's River. Campaigning appears to have agreed with him, as he looks remarkably well. He was under a hot fire at the battle of Hart's River while engaged in removing the wounded and, the editor of the Champion is informed on good authority, proved himself to be a good soldier, no only there, but throughout his term of service. Kenneth was not honored by a presentation or a demonstration, but that was not because he was undeserving, but because the return of South African heroes has become an old story. Though his fellow townsmen have made no fuss over him they are not the less proud of him.