Mary Paterson (real name is Mary McLachlan Blaikley)
Soldier Details:
The name of Mary Paterson appears as a nurse on the Victoria Park Cenotaph in error and was added long after the war (circa 2004) without anyone confirming that the person was "real". We have left this page here, despite the error, for the benefit of others who are checking or researching the names on the Victoria Park Cenotaph.
We have petitioned Branch 136 of the Royal Canadian Legion, who is responsible for the care of the cenotaph, to remove the name of Mary Paterson but they have refused. We are concerned that without the correction of this error it will be forever "etched in stone".
Blaikley, Mary McLachlan
Queen Mary's Army Auxiliary Corps
Imperial War Museum Summary: BEF QMAAC
May 30,1918
Abbeville, France
Daughter of Mary Paterson of Milton (nee Blaikley of Gartcosh Scotland)
Not daughter of Private John Paterson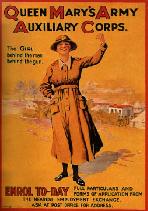 Commemorative Details:
Mary Blaikley is properly remembered on the community memorial in Gartcosh, Scotland. Click to enlarge any of these images.
Nurse Summary:
Mary Paterson (M Paterson) is the only female listed on the Milton Ontario Cenotaph. Her name was not added to the Cenotaph until 2004, unfortunately as we now know in error. There was no such person as Mary Paterson.
Mary Blaikley was serving with the Queen Mary's Army Auxiliary Corps of the British Expeditionary Force. Although a civilian unit, the women were at the front undertaking tasks that would free the men to move to the front lines. It is reported that 8 officials (civilian officers) and 75 members (civilian soldiers) were killed during the war.
A letter from her superior reports that Mary was killed by an aerial torpedo dropped from an enemy plane at 2 o'clock in the morning of May 30, 1918. She and her comrades were in an underground shelter.
The bombs were dropped on Camp 1 and eight (8) were killed immediately, one (1) later and seven (7) others were slightly wounded. The pictures shown are from the members of the Great War Forum who have assisted in recovering the information as it relates to the QMAAC.
In the process of searching for more information on Mary, a Great War Forum posting reported on the death of  9 women in a protection trench on May 29-30, 1918. Coincidence would have to say it was the same group. Eight (8) were reported killed and seven (7) wounded.
The women listed as being killed on that fateful day in May 1918 are as follows: (plus one who died of wounds)
Blaikley
Campbell
Connor
Grant
Moores
Thomasson
Parker
Caswell
Watson (died later of wounds)
The first one on the list "Blaikley" is the Mary Blaikley that was incorrectly identified in Milton ON as Mary Paterson.
Other Links: