The Milton Historical Society has a number of publications related to the history of Milton and the men and women who made it what it is today.
If a book is listed as "sold out" you can still see a copy of the book by visiting the Milton Historical Society Archives on Wednesday or Saturday mornings.
NEW July 1, 2017: 

MHS is now testing the release of e-Publications for books that are "sold out" in paper format. Please click on the link, or select that option from the drop down menu at the top of any page (under MHS Library) to find out more about making a donation for an e-Publication. You may also click on the link in the list of publications that follows, where it is shown that an e-Publication is now available.
Some of the books that have been published by the MHS are depicted by the covers shown below. A full list of publications follows.
New for 2017: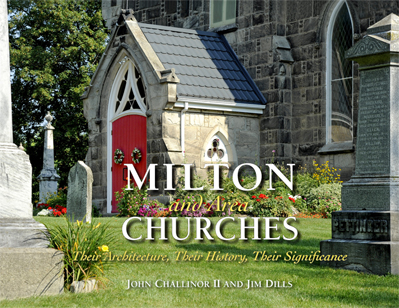 Publications List and Availability: (listed alphabetically by title)
Publication Title
Price
(Plus Shipping & Handling)
Summary of Document
An Indelible Imprint

$1

The historical sketch of Bruce Street School (1857-1972) by local historian and author Jim Dills.
The Blacksmith

$10

Designed as an introduction for the younger reader, with multiple illustrations and photographs on every page, The Blacksmith introduces the tools, activities, and importance of the blacksmith in colonial communities
Collection of Favourite Recipes – Past and Present (The Anniversary Cookbook)

$15

The Milton Historical Society celebrated it's 35th anniversary with the publication of this cook book. The first run sold out within a month of release!  Limited copies have now been made and are available.
Halton's Pages of the Past (Reprint)

$20

A reprint of the original book first published in 1955 and based on a series of articles by local author and historian Gwen Clarke on the history of Halton County and its people and published in the Canadian Champion and Acton Free Press.
Historic Homes of Milton
Volume I

Sold Out

Published in 1991, this book is now out of print and has been succeeded by Volume II (see below)
Historic Homes and Buildings Volume II

$20

Published in 2000. More than 60 local homes illustrated and detailed historically. Compiled by Marsha Waldie, Photos by Konrad Richter.
Memories of Milton

$15

Published in 2003, written by Mel Robinson as a series of newspaper articles in the late 1970's. More than 150 historic photos.
Milton Area Biographies

Vol. 1 $25

Vol. 2 $30

Vol. 3 $35

Two volumes of this work were published, one in 1995 and one in 1997 written by Alex Cooke and including more than 200 biographies of men and women born between 1764 and 1944.Volume 2 was reprinted in April 2014.
Volume 3, compiled by Marsha Waldie was launched on December 8, 2013.
Milton Area Churches

$40

Milton area churches by Jim Dills and John Challinor. The story of their architecture, their history and their significance.
Milton Newspaper Pages and People

$20

One of a series of monographs researched and written by Jim Dills in the advancement of Milton's history. A review of the major newspapers which have covered Milton's news since 1855, along with short biographies of the many interesting characters who have been their proprietors, publishers and editors over the years.
Milton Remembers World War I

sold out

Published in 2006, written by John Challinor and Jim Dills, edited by Ken Lamb, this book is the story of more than 80 Milton soldiers who were killed in service in the Great War. 202 pages and 170 pictures are included.
Milton Remembers World War II

$20

We learn here the names of local people who served in the war. We also see biographies and photos of those who died. The book records personal experiences of many who served in the Army, Navy and Air Force.  The book was a combined effort of the Milton Historical Society and the Royal Canadian Legion (Branch 136).
Milton Semi-Centennial 1857-1907 (Reprint)

$20

A reprint of the original semi-centennial booklet issued in 1907 by The Town of Milton. Contains a short history of the town, its municipal rulers and over 80 historical photographs of people and places in Milton.
Milton Streets

sold out

The story behind the villages, hamlets, neighbourhoods and roads. Prepared in recognition of Milton's 150th Anniversary.
Milton's Scotch Block: The People and Their Stories

sold out
available as an
e-Publication

The story of Halton's Scottish farmers and their families who settled in the southwest corner of Esquesing Township, circa 1820.
Moments in History

$15

More than 90 "moments" reflecting the times and changes in Milton 1833- 1864 compiled by Jim Dills. Many rare photos.
Mr. Jim (James Snow)

$20

The personal recollections of James W. Snow (1929-2008) , farmer, contractor, businessman, aviator and politician. "Mr. Jim" was born in Esquesing Township and was a long time resident of Milton.
Mrs. Merry's Memories
(with CD)

$20

Memories of the late Amy (Howes) Merry give us a lively record of rural life in the Drumquin and Hornby areas in the late 1800's and early 1900's. It is accompanied by a CD with extracts from interviews with Lou Bradley.
P. L. Inventor of the Robertson Screw

$25

Published in 1998, and written by Ken Lamb, this definitive history of the Milton entrepreneur and major local industrialist formed the basis for a recent television production.
Records & Memories of Boston Church 1820-1920 (Reprint)

$20

A reprint of the original 1920 book written by John McColl, D. D. The history deals with the first Presbyterian congregations in the Scotch Block of Esquesing Township, the establishment of Boston Church and the ministers who served over this period.
Time Capsules 1890- 1894

$1

Published in 2002. Revealing news notes from local and area newspapers, reflecting Milton's development and social changes.
Town of Milton Celebrating our Municipal History

$1

A catalogue of the Mayors and Councillors of the Town of Milton from 1857 to 2007.
Walking Milton's Main St. in the 1920's

$1

Published in 1996 and republished in 1999 this is from a humorous speech given by T. A. Hutchinson in the 1960's which recalled the 1920's.