Open Wed. & Sat. 9:30 am-Noon
or by appointment

Mid-March to December
Wed. & Sat. 10 am-Noon
Welcome to the Milton Historical Society
Thank you for taking the time to visit the web site of the Milton Historical Society, located at 16 James Street in Milton, Ontario. We are above the Waldie Blacksmith Shop, one of the MHS major restoration projects.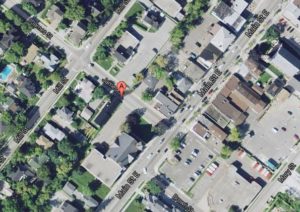 The Milton Historical Society and the Waldie Blacksmith Shop are located in the west end of historic downtown Milton, between Main Street and Mill Street. The United Church is at the northwest corner of Main Street and James Street.
GPS:  43°30'42.33″N  79°53'7.80″W.

(More Video Archives or Embedded Videos)
If you have any difficulty using the DROP DOWN menus on the page headers, you can use the SITE INDEX page as an alternative.
If this is your first visit to the site, your might want to find out why we were formed in 1977 in "About Us – The Society". If you are already familiar with our group and are looking for information about the historical aspects of the Town of Milton, the you may want to check out our Archives, browse the contents of the Library or learn about our Historic Properties. For information about the men and women of Milton who have served since the War of 1812 through to the Korean Conflict, please check the Military section of the site.
If you are interested in becoming a member of the Milton Historical Society, please download and complete the membership form in PDF.
You can check the schedule for the current meetings and events in three locations:
If you follow the Twitter account, any postings of new meetings or events to the MHS Blog will come to your automatically.
You have a number of options to contact the Milton Historical Society:
You are welcome to visit us in person at the 16 James Street location during open public hours of Wednesday and Saturday mornings (or other times by appointment). Please see the times posted below the logos at the top of this page.
General inquiries may be sent in by e-mail to info@miltonhistoricalsociety.ca and one of the archivists will respond as soon as possible.
If you are  contacting the web site about technical issues please send your e-mail to web@miltonhistoricalsociety.ca.
You are also welcome to go to our "Contact Us" page for more options, including posting your questions or comments on-line. Please note that all comments are approved before they are allowed to appear on the site.
A number of links to MHS resources are also posted to our Social Media sites.
To access a copy of the old MHS web click here for old site as that will reveal pages that have not yet been moved to the new site. Only the detailed pages of the WWI Milton Soldiers have not yet been moved, as we are waiting for the new links at Library and Archives Canada.
If you can not find something, send us an e-mail or post a comment.